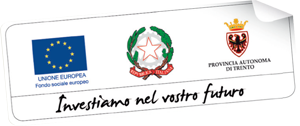 The realization of "Investiamo nel vostro futuro" was financed on the Autonoumus Province of Trento Program ERDF 2014-2020 by the European Regional Development Fund
Our philosophy is characterised by a careful selection of high quality food raw materials, the respect for seasonal cycles, good wine as well as a cozy and relaxing atmosphere.
Maso Franch was created from an old wing of this building, which was now
renowned and harmonically merged to a new and modern structure; it is
located in the municipality of Giovo, in a locality named Pian del
Castello, whose name derives from a prehistoric castelliere (fortified village)
guarding the area over the Avisio river.
Maso Franch covers an area of 11 hectares over the valley of Adige river
and the village of Lavis.
If you are looking for a relaxing and informal way to spend your happiest day with the ones you love, then Maso Franch is the right place for you.
THE PERFECT PLACE FOR YOUR HOSTS
Umberto
"Discovering Maso Franch was a pleasant surprise. In the place every detail has been chosen with great care. The rooms, obtained from the old Maso building, are sober but at the same time beautiful and comfortable. The staff is affable and accommodating, ready to satisfy the clients' requests. I was completely satisfied and I think I'll come back soon."
Silvia
"Maso Franch was refurbished with great taste, the owner is professionality and hospitality itself: we have been there with three dogs, and he reserved a whole dining room for us. Excellent food and wines, large and clean room. I recommend this place also to people with dogs who would like to spend a relaxing weekend with their pets."
Fabio
"Wonderful experience. Qualified personal, affable and accommodating. High quality restaurant and interesting wine selection. Highly recommended."
Valerio
"Professionality and quality are at home here. The staff is accommodating and highly qualified, the waiting service is. Maso Franch is a pleasant place where attention is given to every small detail. Suitable both for a business lunch and for a romantic dinner."
Valeria e Marco
"It was a great experience. You met all of our needs, you made the best day of our life come true! A wonderful setting, an enchanting place, a truly great staff: discreet but always accommodating, precise but not intrusive. We couldn't have asked for more, on any point of view."
Wanna e Michele
"Just like in a fairy-tale…"
Helga e Marco
"A perfect wedding reception! Wonderful place, excellent food and great service by an affable and kind staff. We will surely come back! Massimo is a safe bet!"
Angela e Stefano
"Unforgettable day: Massimo and his staff served us with great care and professionality, giving to us and our guests a flawless service. Tasty and high quality food. The place is wonderful, both inside and outside!"
The following form is an information request and should not be regarded as a booking. Please wait for our confirmation e-mail.
Phone Number: +39 0461 245533
Email: info@masofranch.it
open every day from 10 am to 11 pm